WE COVER THE WHOLE
MARKETING PRODUCTION CHAIN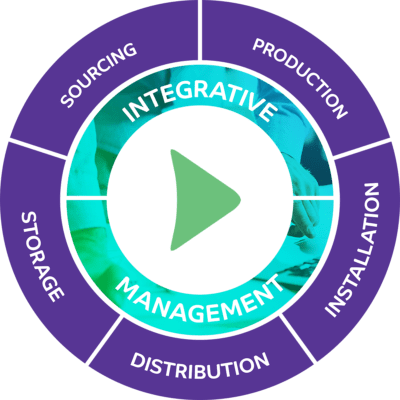 We specialize in integrated solutions for sourcing and production of printing and POS materials. Our strategic intelligence promotes significant savings and maximum process efficiency, and works to serve our clients' business objectives and increased competitiveness.
• PRINTING MATERIALS | PRINT MANAGEMENT
• POS MATERIALS | DISPLAY
• FULFILMENT | LOGISTICS
• COMPLEMENTARY SERVICES | INTEGRATED SOLUTIONS

The production of Marketing materials brings challenges that, without the necessary expertise, may bring less effective results. With the experience of our professionals and access to the best management and production technologies, your company can count on the ideal conditions to implement your brand and communication strategies.
Our procurement platform is structured to manage specifications, RFQs, bids, orders and delivery schedules in a single colaborative and friendly environment.
By means of research, severe vendor approval and corporate management processes we offer the necessary safety for the standardization of brand application in all contact points and hiring of partners for your company end-to-end productive Marketing processes.
Optimized costs, communications control during the production process, reports and KPI tracking are some of the benefits that our work methodology provides for your projects.
• PRINTING MATERIALS
• COMMUNICATION CAMPAIGNS
• DIRECT MARKETING
• PACKAGING
• PROMOTIONAL MATERIALS

Changes in the Market and increasing competition for consumer attention has risen continuously, making the scenario even more complex.
This movement increases the importance of marketing strategies at POS and the search for solutions that promote products and brands through the use of new technologies, materials, production processes and integration of traditional and digital media.
We integrate a network of suppliers and partners, which are benchmarks in their specialties, to provide innovative and efficient solutions to your point of sale.
• DISPLAYS
• MERCHANDISING
• SIGNAGE
• TEMPORARY AND PERMANENT PIECES
• ENVIRONMENTALLY SUSTAINABLE PIECES
• SPECIAL PROJECTS
• INTERACTIVE DISPLAYS / TECH DISPLAYS
• IN-SITE APPLICATION

Ensuring deadlines, transportation modes and delivery coverage of a campaign is a crucial condition to the success of your Marketing strategy.
At SET, logistics has a prime position and we work to minimize risks and formatting the most adequate solutions for each situation, always visualizing all steps in the transportation of the materials, from the origin until their final destination.
• CAMPAIGN DISTRIBUTION
• STORAGE MANAGEMENT
• HANDLING
• DELIVERY OPTIMIZATION
• NATION WIDE DELIVERY (BRAZIL)
• REVERSE LOGISTICS

• CONSULTING
We provide flexible ways to meet expectations, business models and clients needs. We work with our clients and integrate our knowledge and our strategic partnerships to drive broad thinking and to make sure that the client strategy be implemented and its communication accomplished with excellence.
• ADAPTATION
Format and media adaptation as well as content regionalization tools to standardize the communication with maximum efficiency.
• CAMPAIGN MANAGEMENT
Execution management of all campaign pieces, from printing materials to displays, ensuring the correct handling and optimization of deliveries for different locations, storage maintenance and reposition. We work from the project until the in-site application of promotional campaigns, ensuring delivery excellence and consistent communication of our clients.
• DIGITAL ASSET MANAGEMENT – DAM
Storage and digital asset management (for images, printing materials, audio, movies, vector art) with easy access, previewing, version control and safety.